Since doing my Kettlebell workout, my thighs have been really aching so I gave them a rest for day 28.
So yesterday I started off the day in the spa pool and steam room whilst Gary was teaching one of his girls to swim. After shopping, cake making and Super Mario on the Wii was done – I headed back to the gym.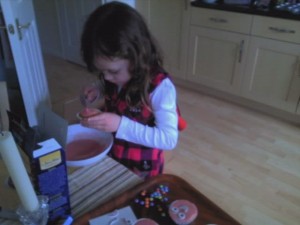 I had hoped to manage a 5km run but my legs and right knee had other ideas. But I completed 3km in a fairly reasonable time (for me)  of 24.33 minutes. I then spent some time on my shoulder and abs workouts. One of the PT's at the gym gave me a different shoulder workout to try after chatting about my injury which worked out to be easy on my shoulder so will be adding that to my usual routine.