Today was a nice relaxing day to see out the last weekend of January. We had already arranged to meet friends for a birthday lunch so Gary and I spent the morning shopping.
The intentions were a new pair of Badminon court shoes for Gary and a new sports bra for me. Although I have not run every day in January (which wasn't my goal) I have increased the amount of running I have done quite considerably and have come to the conclusion that a standard sports bra isn't good enough anymore.
Unfortunately Gary wasn't too successful with his purchasing. I on the other hand ended up with a new Running sports bra and a new jug……..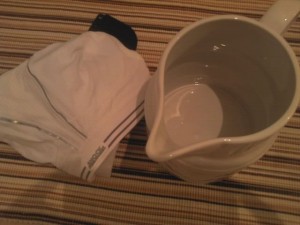 Tonight I was back to my Kettlebell routine even though the after effects of the first session were still with me. 20 minutes of swinging a kettlebell over and round my head whilst trying to walk forwards and backwards. Hopefully I won't be too achy tomorrow.